---
In winter conditions, it can be difficult to build a fire on snow. In shallow snow just dig down to bare earth and use a dead wood platform to light your fire on. Deep snow needs a bit more planning, as you need to make a use a platform for the fire – otherwise you will end up sitting round a hole! Simply dig a pit and fill it with alternate layers of green boughs and snow, with a final ground-level platform of green logs. Digging down is the preferred option, as you can sculpt a sheltered seating area, and it is much easier to disguise the fire site when leaving. Remember – do not site your fire under snow-laden trees!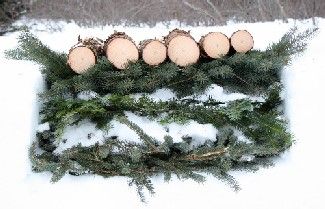 ---
We've just launched our blog – lots of fun stuff coming…
Check out our new photo-montage from last year's Coastal Forager course up in bonnie Scotland! It's an awesome location – in a word 'perfect'…. a private estate boasting white sand beachs, stoney cockle beds, razorfish sand bars, silty mudflats, rocky outcrops, ancient oak woodland, coniferous forest, peaty rivers, frothing waterfalls… all with a stunning mountain backdrop and views out over the western isles! If your tempted by a seafood extravaganza, with the odd venison steak thrown in… check it out!
.

---